I'll be honest: I'm not a fan of Indian food.
My disinterest in the cuisine stems back to a single bad first-date experience at an Indian restaurant that involved watery curry and a guy who kept talking about his ex-girlfriend.
Suffice it to say, that didn't work out.
Ever since then — the date was nearly 10 years ago — I've associated Indian food with that bad experience. I don't even think John Cusack could get me to eat at another Indian restaurant.
Until I stumbled into Himalayan Kitchen earlier this year.

This Indian-Nepalese restaurant opened in March in Kaimuki.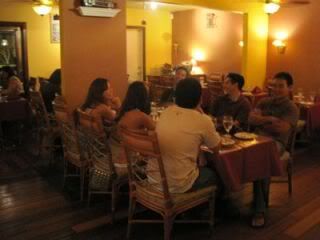 Inside the restaurant, which is often packed during dinner.
Hidden in the municipal parking lot in Kaimuki — behind Big City Diner — this restaurant, which opened in March, boasts a blend of Indian and Nepalese cuisines.
The menu is provocative, with dishes like sherpa chicken chili (boneless chicken battered then cooked with bell peppers, onions, pineapple and a touch of mildly spiced tomato sauce, $13.95), chicken tikka (boneless chunks of chicken breast marinated in yogurt then baked in a tandoori oven, $12.95), Everest seakwa (tender lamb chunks marinated in solukhombu-style seasonings then grilled in a tandoori oven, $14.95) and aloo tama bodi (bamboo shoots, potatoes and black-eyed peas in a mildly spiced Nepali mix marsala, $12.95).
Its eclectic options — that don't skimp on flavor — is one reason Himayalan Kitchen earned the critics' pick in the 2009 'Ilima Awards.
And it made me a believer.
Here's what we ate:

The BF ordered the veggie samosa ($4.95), which are turnovers filled with potatoes, chickpeas, peas and mild spices. Surprisingly addictive!

Samosas are fried or baked and typically in this triangular shape. Non-vegetarian versions come with minced meat or fish.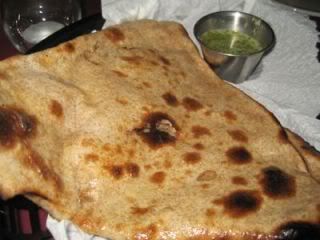 The restaurant devotes an entire page to tandoori oven-baked bread such as naan and roti. We sampled two. This is the paratha ($2.95), buttered baked whole wheat bread.

It wasn't bad, just a little bland. But it's what I'd expect for whole wheat naan.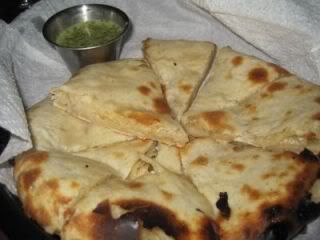 I wanted to try one of the restaurant's stuffed naan. This is the paneer kulcha ($5.50), stuffed with onions and homemade cheese. So delicious. This could've been my entire meal!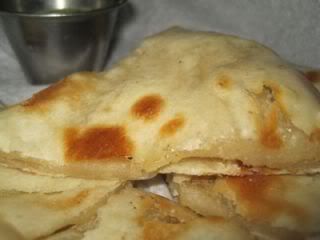 Here's an up-close look at the paneer kulcha. The restaurant also serves bread stuffed with everything from potatoes and peas to ground lamb.

The BF wanted to try one of the restaurant's curries and settled on the lamb madras ($14.95).

Madras curries are coconut milk-based, which he said tasted a lot like a traditional Thai curry dish. The lamb chunks were tender and well flavored. So good over rice.
If this restaurant could change my mind about Indian food, it has to be good. (And I'm sure my new "date" helped, too.)
Himalayan Kitchen, 1137 11th Ave., behind Big City Diner. Hours: Lunch, 11 a.m.-2 p.m.; dinner, Tuesdays-Fridays, 5:30-10 p.m. daily. Phone: 735-1122.
***
Follow Cat on Twitter @thedailydish or send her an e-mail at cat@thecatdish.com.