I was hungry, but I didn't know what I wanted to eat.
So my mom and I drove around Kaimuki aimlessly, hoping for something to catch our eyes — and, more importantly, our appetites.
Then I saw it.
Good to Grill in the Safeway complex on Kapahulu.
I was drawn to it for a couple of reasons: 1) there were people sitting outside, eating. Always a good sign. And 2) its proximity to Leonard's Bakery. (See below)
Good to Grill opened in September adjacent to its sister restaurant, Caliente del Sol. Both restaurants — and Burgers on the Edge, also in the complex — are owned by Wes Zane of Laughing Gravy Restaurants, which also operates the popular Formaggio Wine Bar in Kaimuki and Formaggio Grill in Kailua.

Outside the eatery in the Safeway complex on Kapahulu Avenue.

Inside at lunchtime. There are a few tables inside but more outside.
Good to Grill specializes in kiawe wood-fired casual food, putting a gourmet twist on favorites from pastas to plate lunches. And you can get just about anything you're hungry for: misoyaki chicken ($7.99), garlic 'ahi ($8.99), pulehu rib steak ($17.99), grilled jambalaya with andouille sausage ($11.99), hamachi kama with ponzu dipping sauce ($14.99), even grilled lamb with a roasted garlic cream sauce ($10.99). (And for you health freaks out there, you can even opt for brown rice.)
And everything, according to the cashier, is grilled.

Here's the grill. You can watch cooks grill up your meat while you're waiting. (And you'll be waiting.)
So here's what we got: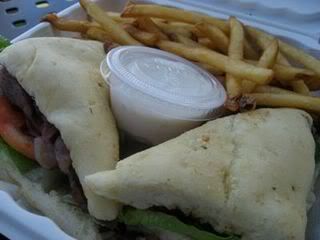 My mom ordered the prime rib sandwich ($8.99), which comes with your choice of shoestring fries, red potato salad or mesclun salad greens.

Here's a closer look. The meat was nicely cooked and flavored — and it was especially good when paired with the horseradish sauce it came with. The sandwich definitely tasted better than it looked, my mom said. Just needed some salt.

The fries were outstanding, though! If you're into fries, you won't be disappointed. Crispy on the outside and cooked in clean oil. (You can tell!) That, alone, was worth the price of the meal.

I wanted to try the pizza. So I ordered the grilled fajita pizza ($9.89), with slices of ribeye steaks, bell peppers and onions atop a thin crust.

A closeup. The flavors worked well together. It tasted almost like an open-face cheesesteak sandwich, but with a hint of pizza sauce.
It's not cheap — and it's definitely not fast. (We waited more than 10 minutes for our food.) But the food is tasty enough to check out. If you're in the neighborhood.
Good to Grill, 888 Kapahulu Ave. Suite 170. Hours: 10:30 a.m.-10 p.m. Monday through Saturday, 10:30 a.m.-9 p.m. Sunday. Phone: 734-7345
***
(Oh, I didn't forget!)
The best part of yesterday's lunch, however, was dessert. (Isn't it always?)
We headed to Leonard's Bakery just up the street for some malassadas.

Even after lunch the bakery was hopping! We took one of only two stalls open.

Oh, the bread. It's hard to walk out without a loaf.

Leonard's doesn't only sell malassadas and pao doce. It's got cupcakes, cookies, palm leaves, even hot-cross buns.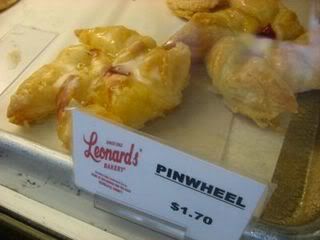 My mom tried the pinwheel. Delicious.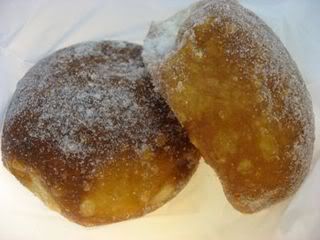 I went with the classic plain malassadas. Two, actually. And yes, I ate them both!