Everyone knows Jason Yotsuda, the friendly face — or sometimes just the friendly voice — that delivers the daily traffic report.
But do you really know our friendly neighborhood traffic guy?
I caught up with Jason last week via Skype between his split shifts reporting for KSSK, KHON and other Clear Channel radio stations to find out what really goes on in that Traffic Management Center: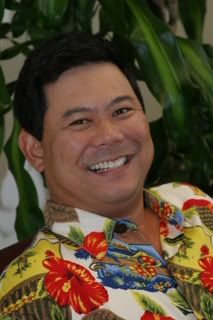 CAT: So most people know you as the traffic guy. But what's your "official" title?
JASON: Traffic guy sounds good, people always say, "You're the weatherman aren't you?" but I guess my true title would be Traffic Reporter.
CAT: How long have you been doing this? And how did you get this job? (I can just imagine the job description!)
JASON: Haha. I have been doing this for about 10 years now and plan to stay as long as they need me. I originally came to KSSK as an announcer, but they had no full-time openings. There was one full-time opening though, Traffic Reporter, so I took the job.
CAT: So it wasn't your life-long dream to report on traffic, then?
JASON: Haha, no. Just wanted to ride in the helicopter, but alas, it was a plane.
CAT: It was a plane? Seriously?
JASON: Yes. A single-engine plane.
CAT: You're kidding! Were you disappointed?
JASON: Not really, I enjoy all kinds of flying. In fact, my next adventure for myself would be to go sky-diving.
CAT: You should do it from that plane and deliver the traffic report!
JASON: Haha, that would be interesting.
CAT: So what were those "helicopter" noises then? Fake? Or am I thinking of another station...? Maybe Capt. Irwin (Malzman)...?
JASON: Captain Irwin used to be in a helicopter, but after him it was a plane.
CAT: Wow. I'm stunned. So what did you want to do career-wise?
JASON: I tried radio in '82 and got addicted to it, so I guess I chose radio. I did want to be a newspaper reporter at one time.
CAT: No kidding? Did you major in journalism?
JASON: No, never finished college, but did get to write an article for the Garden Island newspaper on Kauai and got hired there. No reporter job though, put me in advertising.
CAT: So what's your typical work day like?
JASON: I go to work before 5:30 a.m. come home at about 8:20, rest a bit, work at real estate or sometimes go golfing. I need to be back at the Traffic Center by 4 p.m. and finish at 6 p.m. I sleep early.
CAT: Split shift. That must be tough...
JASON: You get used to it and the split is long enough for a round of golf, so it's not so bad.
CAT: You have a point! So what's it like in the Traffic Center?!?!
JASON: For the most part it's fun. The people who work there are really cool and knowledgeable. There are two engineers there and two technicians. The other two traffic reporters (Danielle Tucker and Dave Hisaka) for the other stations are also in the same room. We sit in a semi-circle with a desk between us and me in the center. We sometimes would have pot lucks or just bring stuff to eat.
CAT: Really? That's interesting! What's that like, working with the other reporters?
JASON: It's OK. I feel that we are doing a public service, so the more stations that can put out the word on an incident the better for the people.
CAT: That's true. You guys all get along?
JASON: Pretty much.
CAT: And you guys are giving reports at the same time? Must get noisy...
JASON: It does get noisy sometimes, but usually we are not all talking at the same time.
CAT: Do you ever get confused about which station you're reporting for?
JASON: I have gotten confused a couple of times.
CAT: What happens?
JASON: The show just goes on and I'd better get it right the next time.
CAT: Ha! So how does it work... Do you monitor the traffic cams? Or does someone hand you a cheat sheet of information?
JASON: No cheat sheet. It's all live and I'm telling you what I'm looking at at that moment. There are 11 monitors for the about 140-something cameras. We usually monitor just the major areas. Three of those monitors are like 53 inches or 60 inches. Maybe not 60 inches, but big.
CAT: Whoa! That's intense! How do you keep it all straight? I'd be dishing out the wrong information all day long!
JASON: You would get used to it. It's just a matter of knowing where the traffic is coming from and where it is going. I bet you would be able to do a good job of it.
CAT: So in your 10 years of doing this, notice any changes in traffic patterns, driver behavior, stuff like that?
JASON: I have noticed how much the traffic has grown, it's incredible. I can't even imagine it in 10 years.
CAT: Any particular area gotten worse?
JASON: Coming in from the west side into Pearl City. That used to back a little beyond the H-1/H-2 merge. Now when school is in session, it's not unusual for the traffic to be backed up to Kunia or beyond. When we have an accident or stall, it makes matters even worse.
CAT: You think fixed rail or some kind of mass transit will help?
JASON: I hope it does. We do need something to alleviate the traffic.
CAT: So what's your commute like? And what are you driving these days?
JASON: Haha, my commute is very short because I live close to the Traffic Center, so it takes me about 3 minutes. Right now I drive a very economical Toyota Corolla.
CAT: You're right! Very economical! I guess you're not paying much in gas!
JASON: Try not to.
CAT: So I noticed in your email tag, it says, "Get out of your car and into your dream." What does it mean? Where'd it come from?
JASON: It's a twist on the Billy Ocean song, "Get Out Of My Dreams and Into My Car. The 'dream' being a home."
CAT: Great tie-in for your real estate biz. How'd you get into that, by the way?
JASON: I have a lot of time between shifts so I decided to do something else and two of my friends in real estate suggested I do that, so I took the classes and tests.
CAT: Do you own your own place?
JASON: Not at the moment. I eventually want to move back to Kauai and live.
CAT: But traffic isn't that bad on Kauai. You might move yourself out of a job!
JASON: Haha. They have no traffic reports there. No alternate routes, just one highway.
***
To get your local traffic updates, visit the Honolulu City & County's FastCheck!