You've probably seen the commercials.
Hawaii's sumo star Konishiki and former Yokuzuna Musashimaru raving about the ramen at Tenkaippin, a little, you-can-easily-miss-it ramen shop on Kapahulu Avenue.
I love, love ramen, so this spot — the only Hawaii location of this Japanese chain — was on my short list.
So the other day, after a surf session at Secrets — and on the insistence of my (former) landlord's son — we headed to Kapahulu to sample what many of my friends say is the best ramen on the island.

The ramen shop on Kapahulu Avenue. Notice the chairs. That's for the people who have to wait to get seated.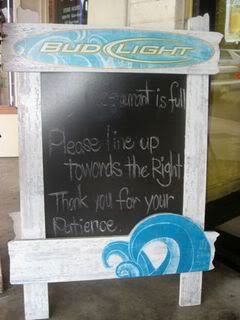 It reads, "If the restaurant is full, please line up towards the right. Thank you for your patience."

Inside the restaurant, which seats about two dozen.
Tenakippin has been in Hawai'i — more specifically, in Waikiki — for about 8 years. But recently the popular ramen shop moved to Kapahulu, where it's been re-discovered by ramen aficionados who have heard about its unique dish.
And it really is unique. Its top-seller — kotteri ramen, with saimin-style noodles swimming in a thick yellowish broth — is like nothing you'll get anywhere else.
It may not sound appealing, but believe me, you'll love it.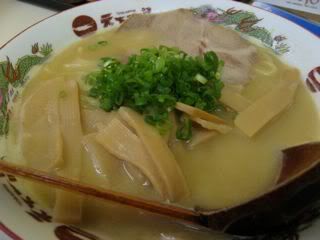 The kotteri ramen ($7.95) is the eatery's best seller. Look how thick that broth is!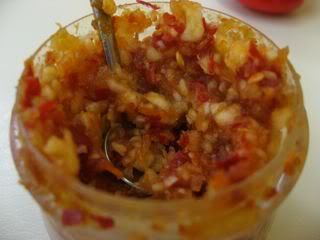 This ramen tastes particularly good with the restaurant's signature condiment: minced garlic and chili pepper.
So I did some research: the broth — chicken, if you're wondering — is thickened with chicken collagen gleaned from boiling down the bones and feet for hours.
Yes, collagen.
The broth, thick as gravy and a bit gritty, actually tastes like it's been thickened or flavored with cream or butter. But, as the servers insist, it's not. There are no dairy products — or flour or cornstarch — in there.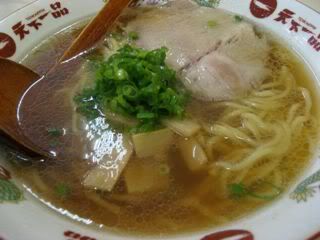 I tried the assari ramen ($7.95), which came with a traditional soy-based chicken broth. Really tasty! (Tenkaippin also has a miso ramen.)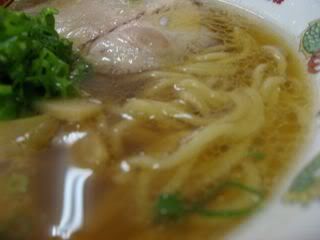 Here's the assari ramen broth up close.

Compare that to this — the kotteri — broth. Notice the difference?
Tenkaippin also has some popular side dishes such as fried rice, fried chicken and — of course — gyoza.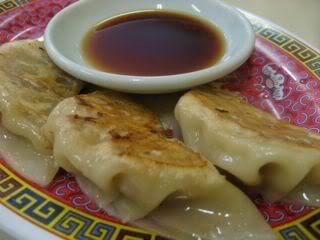 Here's the gyoza. For a few bucks more, I got three with my meal.

The gyoza didn't blow my mind, but it complemented the meal well.
It's not the easiest place to get to. You have to fight for parking (on Mooheau Street) with patrons of Starbucks, Jamba Juice and Kozo Sushi. So good luck. But if you can find parking — and if you can find the ramen shop — you won't be disappointed.
But bring a book. We got there at 2 p.m. and waited for about half an hour for an open table!
Tenkaippin Ramen, 617 Kapahulu Ave. at the corner of Mooheau Street. Hours: 11 a.m. to 10 p.m. Mondays to Thursdays, to 11 p.m. Fridays and Saturdays. Phone: 732-1211.